Bring us your hard working…
attitude
We have a position for you!
Are you a pick packer, machine operator, builder, truck driver, crane operator or just enjoy the workout from manual labour?
Check us out…there's more!
Efficiency
Let us represent you!
Are you a master of spread sheets, people management, health & safety, customer services, data entry or making the perfect coffee?
We are private sector specialists that understand business … check us out
Do you need an honest discussion with a recruiter that understands business & will be frank about what you can expect?
Try us.
We don't make empty promises, furthermore if there's something we don't know we will find out and get back to you. EQUIP's integrity ensures that your brand is reflected honestly, this means that employees understand the value that you can provide each other before its too late!
Repeat business is our mainstay – call us!
Equip Petone
Cnr Cuba & Jackson Street
PO Box 33-244
Petone, Lower Hutt 5046
Equip Porirua
Shop 1, Lydney Place
North City Mall (Next to ACC)
5022
Equip Palmerston North
178 Broadway Ave
Palmerston North
4414
Who are we?
Meet the Equip Team…
A talented lot....
EQUIP's team are highly dedicated human beings who love to get to know you
Our strategy has always been to work with like minded people and businesses who believe in partnerships rather than transactions - our team are dedicated to using their super powers to improving lives and making a positive impact
Stuart Hurst
Director / Recruitment
Superpower: Endurance  
Nichola Moore
Director / Recruitment
Superpower: Mysterious Forces
Lyn Watson
Commercial Manager
Superpower: Sixth Sense
Petar Tavich
Porirua Branch Manager
Superpower: Immense Stamina
Janette Calvert
Equip Team Cultural Ambassador
Superpower: Flexibility and Care
Nicky Zhong
Finance Administrator
Superpower: Problem Solving
Tina Rush
Palmerston North Branch Manager
Superpower: Super communication skills - always knows how to speak client's and candidate's language
Jack Turu
Candidate Manager - Porirua Branch
Superpower: Defender of the People
Charlotte Perkins
Equip Team Compassion Fairy
Superpower: Sprinkling Goodness
Justin Graham
Recruitment Consultant - Petone
Superpower: Warlord Durability
Chenee Dempsey
Equip Team Spiritual Wellbeing Representative
Superpower: Courage and nobility
Danae Young
Branch Administrator
Superpower: Greek Goddess Athena - Goddess of reason, wisdom, intelligence, skill, peace, warfare, battle strategy, and handicrafts.
Sue Perry
Commercial Administrator and Recruitment
Superpower: Protector of dragons (people too!)
Dion Burnskey
Recruitment Consultant - Petone
Superpower: Common-sense  (so rare it is considered a superpower)! 
Jade Tareha
Recruitment Consultant - Palmerston North
Superpower: Indomitable Will
Don't just take our word for it…
Testimonials
Nichola – Just a quick note to thank you and your team for your efforts in finding us a new TM. Lyn was a pleasure to deal with and worked quickly and efficiently to find candidates for us, and of course as always you did a great job of filling the void when she was on leave. Your business is easy to deal with and makes the commercial and recruitment process trouble free.
During the last 3 years we have used Equip recruitment in Petone as our Temporary Labour supplier, I have always found Equip very efficient in responding quickly to help me fill any gaps to insure manufacturing continuity. They understand what type of person I am looking for and do their best to meet my requirements.
Equip are also very supportive of the staff they provide, often visiting to check with both myself and the workers that there are no issues that need to be addressed. I know from talking with these Temp workers that they appreciate this as they are usually uncertain of their job security and Equip provide this.
I would thoroughly recommend Equip Recruitment to any business that requires efficient service and good quality Temp workers.
I have been using Equip Recruitment Petone for my staffing needs, for just under a year now. They really are THE BEST! Lyn has been fantastic to work with. She's provided me two of the very best employees I could ever have asked for…Equip listen…ensuring they truly understand your needs, which is a refreshing change. Keep up the great work Equip Recruitment! Highly recommend!
CONTACT US
Free Phone: 0508 EASY AS (0508 327 927)
office@equiprecruitment.co.nz
PETONE OFFICE
Cnr Cuba & Jackson Street.
Petone
Lower Hutt 5046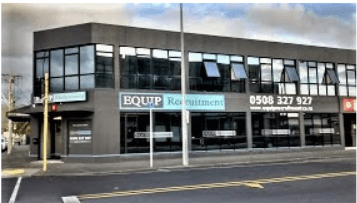 PORIRUA OFFICE
Shop 1, Lydney Place
North City Mall (Next to ACC)
Porirua 5022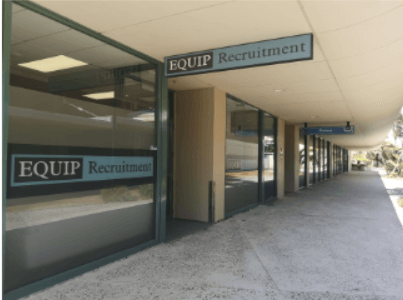 PALMERSTON NORTH OFFICE
178 Broadway Ave
Palmerston North
Manawatu 4414